January 14, 2013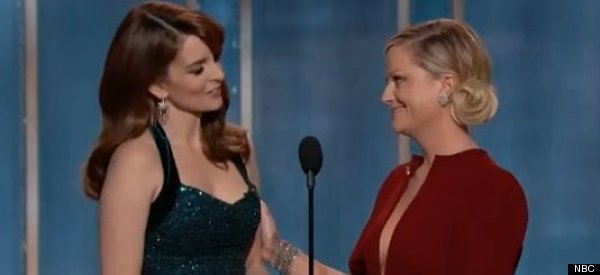 From representing "Dog President" to losing as gracelessly as possible, Tina Fey & Amy Poehler kept the laughs coming all night long at the 70th Annual Golden Globes. In addition to all of their great bits, there were other big laughs during the night, some intentional (Kristen Wiig & Will Ferrell) and some not so much (Salma Hayek & Paul Rudd). 
Continue reading...
| | |
| --- | --- |
| | |
PETER FARRELLY
I'm Not Bragging, But I Don't Have a Cellphone
What happened to driving in a car and just looking out the window? Your kids are giving up the entire physical world for this narcissistic/sychophantic/addictive need to follow someone or see who's following them. Continue reading...

JOHN BLUMENTHAL
My Two Months in Facebook Rehab
I haven't gone on Facebook in a year. Whenever I am tempted, I speak to God. We have a special relationship because I had friended Him two years ago. He'd poked me twice. Continue reading...

DAN PERSONS
Cinefantastique Spotlight Podcast: A Haunted House
The second week of 2013 sees yet another film that doesn't aspire to the bottom-of-the-barrel stature usually typified by early-in-the-year releases. A Haunted House sets out to deflate found-footage horror, and more often than not hits its targets quite capably. Continue reading...

JERRY ZEZIMA
'Joking Is in My Blood'
As a frequent blood donor and a proud member of the Gallon Club, which has nothing to do with my weekend beer consumption, I have often wondered if the people who get my blood suffer from terrible side effects like telling stupid jokes and growing a mustache. Continue reading...

LOUIS VIRTEL
Weeklings!: Worst Oscar Nominations Ever? (VIDEO)
In this edition of Weeklings!, I uncover the Academy's idiocy with splintering detail -- even though I have an insane, eternal obsession with the Oscars. Love you, AMPAS! Even if you truly enjoyed Silver Linings Playbook. Continue reading...


Received this from a friend? Sign up for alerts from The Huffington Post here
Unsubscribe here.