January 9, 2013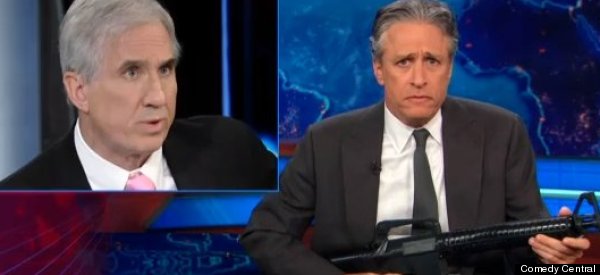 Jon Stewart devoted his entire show to the subject of gun control on Tuesday, including discussing the subject with retired General Stanley McChrystal. But it was his two-part opener that was less satire and more impassioned plea for reasonable discussion and ideas that cut right to the heart of the matter. 
Continue reading...
| | |
| --- | --- |
| | |
ANDY MCDONALD
Making Our Relationship With the Earth Work in the New Year
Don't embarrass the Earth in front of guests. Remember that party when you and the Earth were on the same Pictionary team and you called the Earth stupid because he couldn't get the word "sorrow"? That's a tough Pictionary word, give the Earth a break. Continue reading...

RONNA BENJAMIN
Siri: The Antidote to Memory Loss
For about a year now, I have been searching for a new memory tool. Something that would be relentless until my task was completed. In January, 2012, the "Today" show reported that mental capacity starts to diminish at the average age of 45. I wrote that down, and I'm glad I did. Continue reading...

MICHAEL SIGMAN
12 Things About Steak, Social Security and God
Some steak-of-the-art snobs say that the mere ordering of steak in a restaurant is an art form. Others apply the term "art" to proper grilling. That's overkill. But we can all agree not to emulate my friend's request that a waiter serve his steak tartar "medium rare." Continue reading...

ELIZABETH ZEPHYRINE MCDONOUGH
'Paris Syndrome' And The Shock Of The City Of Light
I had my own personal encounter with "Paris Syndrome." When I first saw the toilet, I never would've guessed that it was going to eat me alive -- which is not to say that it didn't look suspicious. Continue reading...

JOHN DEBELLIS
Interview With Rita Rudner
The first heckler I ever encountered yelled, "What's your day job?" I replied, "This is the first time I've ever been onstage, could you please come back and heckle me when I'm more experienced?" He shut up. Continue reading...


Received this from a friend? Sign up for alerts from The Huffington Post here
Unsubscribe here.